Impartial Judiciary, Speech by Chief Justice John Roberts, Jr.: Video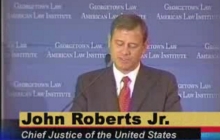 description
In a speech before the American Law Institute, Chief Justice of the Supreme Court John Roberts, Jr. discusses the importance of an impartial judiciary. An impartial judiciary is both independent from other branches of government and unswayed by personal interests. Roberts mentions some of the ways the judicial branch seeks to police itself from judicial misconduct or conflicts of interest.

Roberts also mentions that other countries often want to emulate the impartial judiciary present in the United States. Why is an impartial judiciary so important? How does the U.S. government help ensure that the judiciary is independent and ethical?
Source: Judiciary NOW,Judiciary Now: Impartial Judiciary Highlighted, Fed Flix, Public.Resource.Org (accessed February 15, 2009).
How to Cite This Source
Judiciary NOW, "Impartial Judiciary, Speech by Chief Justice John Roberts, Jr.: Video," in Virginia Civics, Item #193, https://vagovernmentmatters.org/primary-sources/193 (accessed January 27, 2022).