| »
Local Government in Action: Wise County Board of Supervisors
,
Wise County, Virginia
http://www.wisecounty.org/BOS/meetings.html
The Wise County Board of Supervisors offers a prime example of the executive branch in a local jurisdiction. This website offers meeting agendas and minutes, as well as a TV broadcast of Board meetings. The Wise County website is one among many
local government websites
that address this issue—you can even find your own local government!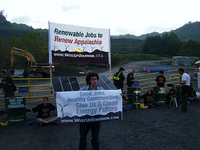 Joshua Kahn Russell
The photo documentation and first person narrative describe a protest in Wise County, Virginia against mining corporations and Dominion Power. This coalition of citizens consists of a local interest group working to change both public policy and an…
Tags: Citizens in Action, Elections and Issues, Interest groups, Local issues, Mining, Photographs, Protest, SOL 1: Essential Skills, SOL 14: Economic Systems, SOL 14a, SOL 14c, SOL 15: U.S. Market Economy, SOL 15c, SOL 1f, SOL 6: Elections, SOL 6h, SOL 8: State and Local Government, SOL 8d, SOL 8e, SOL 9: Public Policy, SOL 9e, Still image, Wise County