| »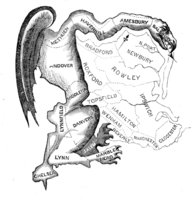 Kenneth Stroupe and Meg Heubeck
Analyzing contemporary examples of gerrymandering and its effects in Virginia encourages one to understand the motivations behind Congressional redistricting, seek possible solutions to the difficult topic, and see democracy as a process of…
Tags: 1st District, 5th District, 6th District, 7th District, Apathy, Case study, Commissions, Congressional districts, Creigh Deeds, Democracy, Democratic Party of Virginia, Democratic-Republican Party, Districts, Elections, Elections and Issues, Federalist Party, For Teachers, Foundations, George Allen, Gerrymandering, History, Incumbents, James Madison, John Locke, L. Douglas Wilder, Legislation, Legislative Branch, Map, Partisanship, Patrick Henry, Political cartoon, Political parties, Population, Redistricting, Republican Party of Virginia, SOL 1: Essential Skills, SOL 17: Personal Character Traits, SOL 17c, SOL 17e, SOL 18: Participation in Civic Life, SOL 18c, SOL 18e, SOL 1a, SOL 1c, SOL 1f, SOL 6: Elections, SOL 6b, SOL 6e, SOL 6g, SOL 6i, SOL 8: State and Local Government, SOL 8a, SOL 8c, SOL 9: Public Policy, SOL 9f, Statistics, Timothy Kaine, U.S. Congress, U.S. Supreme Court, Virginia Board of Elections, Virginia Constitution, Virginia General Assembly, Virginia House of Delegates, Virginia Senate, Voter turnout, Voting rights, Voting statistics, William Wampler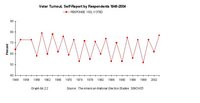 American National Election Studies
The above graph of voter turnout from 1948 to 2004 shows interesting an interesting, up-and-down trend, which raises important questions. How does voter turnout correspond to presidential versus non-presidential elections? Are some elections more…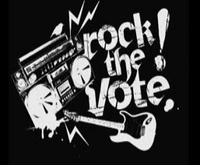 UC Berkeley's Asian Political Association
Voting is every citizen's right, responsibility, and civic duty. Yet many people don't vote, for any number of reasons. In this "Rock the Vote" video, UC Berkeley's Asian Political Association addresses why many people say they don't vote.
Tags: Citizens in Action, Civic duty, Elections, Elections and Issues, Moving image, Rock the Vote, SOL 1: Essential Skills, SOL 17: Personal Character Traits, SOL 17e, SOL 18: Participation in Civic Life, SOL 18c, SOL 19: Meaning of Citizenship, SOL 19a, SOL 19b, SOL 19c, SOL 1c, SOL 6: Elections, SOL 6b, SOL 6i, Videos, Voter turnout, voting
Proudly powered by Omeka.