| »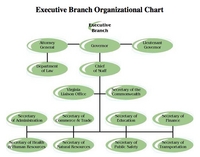 Commonwealth of Virginia
The Constitution of Virginia provides for legislative, executive, and judicial branches. This chart indicates the organization of the executive branch, consisting of three statewide elected officials.
The Governor, who is the chief…
Tags: Attorney General, Chief of Staff, Department of Law, Executive Branch, Governor, Lieutenant Governor, Secretary of Administration, Secretary of Commerce and Trade, Secretary of Education, Secretary of Finance, Secretary of Health and Human Resources, Secretary of Natural Resources, Secretary of Public Safety, Secretary of the Commonwealth, Secretary of Transportation, SOL 1: Essential Skills, SOL 1b, SOL 1c, Still image, Virginia Liaison Office
Secretary of Finance
,
Secretary of Finance
http://www.finance.virginia.gov/index.cfm
This website outlines the way the Secretary of Finance implements Virginia's budget, in cooperation with the Governor, legislature, and other departments. One important aspect of the website is
Agency Information
, which shows how the Secretary of Finance connects with other financial departments. A
News
section offers press releasees about the Governor's financial policies. While brief, the Secretary of Finance website shows the interconnectedness of government offices.