| »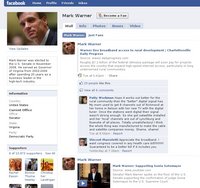 Mark Warner
Politicians and other public figures are increasingly using new social networking technologies such as Facebook and Twitter to increase publicity and make announcements to the public and mass media. These images show sections of Senator Mark…
U.S. Supreme Court
This document provides the text of the landmark Supreme Court case,
Marbury v. Madison
(1803), the first Supreme Court case which declared an act of Congress illegal. That action created a legal precedent of Judicial Review.
Tags: Checks and balances, Document, Foundations, History, John Marshall, judicial, Judicial Branch, Judicial Review, Marbury v. Madison, SOL 1: Essential Skills, SOL 10: Federal Judiciary, SOL 10b, SOL 17: Personal Character Traits, SOL 17d, SOL 1a, SOL 4: The Constitution, SOL 4a, SOL 4c, SOL 7: National Government, SOL 7a, SOL 7b, SOL 7c, Supreme Court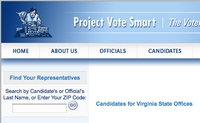 Project Vote Smart
,
Project Vote Smart
Project Vote Smart aims to provide voters with information about key election issues, biographical information about candidates, and voting records. One of its best properties is the level of detail given to state and local elections. Visitors can search by zip code to find information about candidates in their area, go directly to
Virginia's profile page
, or even find links to
local election offices
. Find out who your representatives are, how their votes are affecting your life, and how you can vote in your area.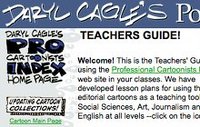 Political Cartoonists Index
,
Daryl Cagle and ClassBrain
This website offers five lesson plans and associated political cartoons every day. Such frequent updates ensure that each lesson plan covers the latest issues. By necessity, each lesson plan is fairly brief. It offers a brief overview of background on the political cartoon, a list of discussion questions, the state where the cartoon was published, and links to articles about the issue. The
main page
also offers a comprehensive index of political cartoonists, which includes the
Richmond Times-Dispatch
and the
Fredericksburg Freelance-Star
, that visitors may want to use for research purposes or simply a quick laugh.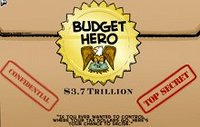 Budget Hero Game
,
American Public Media
http://marketplace.publicradio.org/features/budget_hero/
Budget Hero gives players an opportunity to try to manage the Federal budget by making budget decisions without breaking the bank. Players can choose up to three major issues to focus on, such as national defense, health and wellness, energy independence, and efficient government. The game provides details about individual issues (such as funding for mass transit and other infrastructure), which can inform players about some of the major policy issues being dicussed right now. The game is aimed at the Federal budget, but some of the policy decisions affect state and local governments.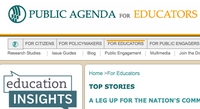 Public Agenda: Helping Americans Explore Today's Issues
,
Public Agenda
This website provides a wealth of up-to-date coverage of current issues, from America's role in the international community to Social Security. A large section for
educators
includes resources for teachers, students, parents, and leaders. Topics such as the rising cost of college tuition are particularly relevant for those involved in education. While there are limited resources specifically aimed at Virginia, the broader issues covered by the website can easily be oriented to fit discussions about their specific application on the state and local level.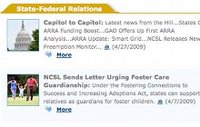 National Conference of State Legislatures
,
NCSL
The National Conference of State Legislatures is a bipartisan organization that provides networking and information services to state legislators from Virginia and around the country. While some services are restricted to legislators, NCSL offers up-to-date information on issues that affect policymakers at the state level, such as the Federal budget, immigration, and ethics. The website is an excellent source for information on
State-Federal relations
and the division of power.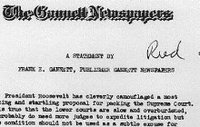 Constitutional Issues: Separation of Powers
,
National Archives and Records Administration
http://www.archives.gov/education/lessons/separation-powers/#documents
The National Archives website features a lesson plan about the separation of powers on a federal and state level that revolves around a history of President Franklin Delano Roosevelt's court packing during the 1930s. It includes background information on the time period, as well as a primary source document in which a newspaper publisher warns that FDR's actions may lead to "absolutism and complete dictatorial power." The website also features a document analysis worksheet and teaching activities.

Congressman Jim Moran
Virginia Indian tribes have been working for federal tribal recognition status for many years. Federal recognition creates a system of government-to-government treaty and negotiation status. It also allows tribes to receive federal assistance for…
Office of Congressman Jim Moran
In this press release, Congressman Jim Moran discusses some of the history of tribal-government relations, the significance of federal tribal recognition, and the status of federal recognition of six Virginia tribes. The U.S. House of…
Tags: American Indians, Document, Interest groups, Jim Moran, Legislative, Legislative Branch, Press release, SOL 1: Essential Skills, SOL 1a, SOL 1f, SOL 6: Elections, SOL 6h, SOL 7: National Government, SOL 7c, SOL 8: State and Local Government, SOL 8e, SOL 9: Public Policy, SOL 9e, Tribal recognition, U.S. Congress
Proudly powered by Omeka.