| »
Virginia General Assembly
Virginia signed its first constitution in 1776 upon the signing of the Declaration of Independence. Since that time, there have been frequent amendments and six major revisions to the constitution: 1830, 1851, 1864, 1870, 1902, and 1971. Our current…
Tags: Constitution, Education, Executive, Executive Branch, History, judicial, Judicial Branch, Legislative, Legislative Branch, SOL 1: Essential Skills, SOL 11: Civil Liberties and Rights, SOL 11a, SOL 11b, SOL 11c, SOL 11d, SOL 11e, SOL 14: Economic Systems, SOL 14c, SOL 16: Role of Government in U.S. Economy, SOL 16a, SOL 16b, SOL 16d, SOL 18: Participation in Civic Life, SOL 18f, SOL 1a, SOL 2: Political Philosophies, SOL 2e, SOL 3: Concepts of Democracy, SOL 3a, SOL 3b, SOL 3c, SOL 3d, SOL 3e, SOL 4: The Constitution, SOL 5c, SOL 8: State and Local Government, SOL 8a, SOL 8b, SOL 8c, SOL 8d, SOL 8e, SOL 9: Public Policy, SOL 9c, SOL 9e, State government, Taxes, Transportation, Virginia Supreme Court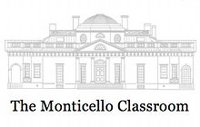 Monticello Classroom
,
Thomas Jefferson Foundation
http://classroom.monticello.org/
The Monticello Classroom offers extensive information about Thomas Jefferson, Virginia history, the Virginia Statute for Religious Freedom, and other important aspects surrounding the founding of the United States. The website also allows visitors to log in and create projects, design lesson plans, or do homework. It also features fun information, such as
why Thomas Jefferson is on the nickel
, and how to
make ice cream
the colonial way.