| »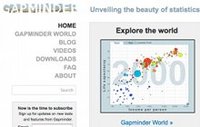 Gapminder
,
Gapminder Foundation
Gapminder provides free access to statistics (usually gathered from the United Nations) presented in moving data visualization charts. These statistics aren't boring—data sets flow over time and offer surprising insights into public health, trade, and other issues. Users can select states such as Virginia and compare them to hundreds of countries throughout the world, including China, the United Kingdom, and Mexico. Statistics track a variety of indicators, including income, insurance "uncoverage," immigration, and "best teeth." Users can watch a
video tutorial
, as well as
videos
applying the information to real-world scenarios. This website is particularly useful for anyone learning about graphs, public policy issues, and the relationship between Virginia and the rest of the world.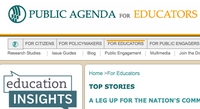 Public Agenda: Helping Americans Explore Today's Issues
,
Public Agenda
This website provides a wealth of up-to-date coverage of current issues, from America's role in the international community to Social Security. A large section for
educators
includes resources for teachers, students, parents, and leaders. Topics such as the rising cost of college tuition are particularly relevant for those involved in education. While there are limited resources specifically aimed at Virginia, the broader issues covered by the website can easily be oriented to fit discussions about their specific application on the state and local level.
C-SPAN, Amar Bakshi
In this video, Washington Post reporter Amar Bakshi discusses the differences between older peoples' and youths' opinions of the U.S. Younger peoples' perspectives differ based on the experiences and exposure they have had during their…