| »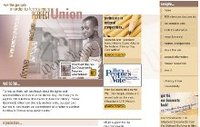 Our Documents
,
National Archives and Records Administration, National History Day, US Freedom Corps
This website highlights 100 primary source documents that shaped United States history. Documents include the Declaration of Independence, the Virginia Plan, the Civil Rights Act, and the Executive Order establishing the Peace Corps. Each source has detailed information about the document, an image of the original document, a document transcript, and high-resolution pdfs. The website also contains
Tools for Educators
, with guides on integrating these important documents into the classroom. Want to know what
James Madison's handwriting
looks like, and why what he wrote was important? This is the place for you.
U.S. Supreme Court
This document provides the text of the landmark Supreme Court case,
Marbury v. Madison
(1803), the first Supreme Court case which declared an act of Congress illegal. That action created a legal precedent of Judicial Review.
Tags: Checks and balances, Document, Foundations, History, John Marshall, judicial, Judicial Branch, Judicial Review, Marbury v. Madison, SOL 1: Essential Skills, SOL 10: Federal Judiciary, SOL 10b, SOL 17: Personal Character Traits, SOL 17d, SOL 1a, SOL 4: The Constitution, SOL 4a, SOL 4c, SOL 7: National Government, SOL 7a, SOL 7b, SOL 7c, Supreme Court
Proudly powered by Omeka.