| »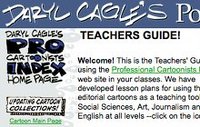 Political Cartoonists Index
,
Daryl Cagle and ClassBrain
This website offers five lesson plans and associated political cartoons every day. Such frequent updates ensure that each lesson plan covers the latest issues. By necessity, each lesson plan is fairly brief. It offers a brief overview of background on the political cartoon, a list of discussion questions, the state where the cartoon was published, and links to articles about the issue. The
main page
also offers a comprehensive index of political cartoonists, which includes the
Richmond Times-Dispatch
and the
Fredericksburg Freelance-Star
, that visitors may want to use for research purposes or simply a quick laugh.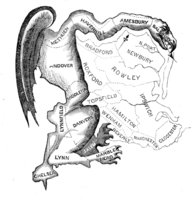 Kenneth Stroupe and Meg Heubeck
Analyzing contemporary examples of gerrymandering and its effects in Virginia encourages one to understand the motivations behind Congressional redistricting, seek possible solutions to the difficult topic, and see democracy as a process of…
Tags: 1st District, 5th District, 6th District, 7th District, Apathy, Case study, Commissions, Congressional districts, Creigh Deeds, Democracy, Democratic Party of Virginia, Democratic-Republican Party, Districts, Elections, Elections and Issues, Federalist Party, For Teachers, Foundations, George Allen, Gerrymandering, History, Incumbents, James Madison, John Locke, L. Douglas Wilder, Legislation, Legislative Branch, Map, Partisanship, Patrick Henry, Political cartoon, Political parties, Population, Redistricting, Republican Party of Virginia, SOL 1: Essential Skills, SOL 17: Personal Character Traits, SOL 17c, SOL 17e, SOL 18: Participation in Civic Life, SOL 18c, SOL 18e, SOL 1a, SOL 1c, SOL 1f, SOL 6: Elections, SOL 6b, SOL 6e, SOL 6g, SOL 6i, SOL 8: State and Local Government, SOL 8a, SOL 8c, SOL 9: Public Policy, SOL 9f, Statistics, Timothy Kaine, U.S. Congress, U.S. Supreme Court, Virginia Board of Elections, Virginia Constitution, Virginia General Assembly, Virginia House of Delegates, Virginia Senate, Voter turnout, Voting rights, Voting statistics, William Wampler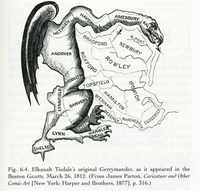 Elkanah Tisdale
In 1812, Jeffersonian Republicans forced through the Massachusetts legislature a bill rearranging district lines to assure them an advantage in the upcoming senatorial elections. Although Governor Elbridge Gerry had only reluctantly signed the law, a…