| »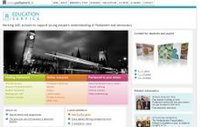 United Kingdom Parliament Education Service
,
Education Service, Houses of Parliament
http://www.parliament.uk/education/index.htm
This website was created by the British government to educate students about Parliament in the United Kingdom. It includes lesson plans, games, and resources for students of varying ages. It's also an interesting glimpse into another country's legislative branch. How does it work? How is it similar or different from our legislative branch?
House of Lords
Prepared by the British government, this document provides an overview of the House of Lords, Parliament, and the Supreme Court system in Great Britain. The House of Lords is the second chamber of British Parliament, and its members are not elected…
Tags: Graphs, Great Britain, Great Britain's Constitutional Reform Act of 2005, Great Britain's Supreme Court, House of Lords, judicial, Judicial Branch, Legislation, Legislative, Legislative Branch, Member of Parliament, Parliament, Salisbury Convention, SOL 1: Essential Skills, SOL 13: Comparative Government and Economy, SOL 13a, SOL 13b, SOL 13c, SOL 1a, Supreme Court of Appeal, World