| »
U.S. Senate
The federal "No Child Left Behind" Act was created to ensure equal quality of education for all students. One frequent problem in education is the "achievement gap" between students from different backgrounds. Some examples of this include: low…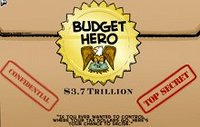 Budget Hero Game
,
American Public Media
http://marketplace.publicradio.org/features/budget_hero/
Budget Hero gives players an opportunity to try to manage the Federal budget by making budget decisions without breaking the bank. Players can choose up to three major issues to focus on, such as national defense, health and wellness, energy independence, and efficient government. The game provides details about individual issues (such as funding for mass transit and other infrastructure), which can inform players about some of the major policy issues being dicussed right now. The game is aimed at the Federal budget, but some of the policy decisions affect state and local governments.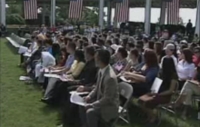 Judiciary NOW
This government video shows what happens at a naturalization ceremony by interviewing public officials, new citizens, and their family and friends. The ceremony portrayed in this video is unsual in some ways, because it took place in historic of…