| »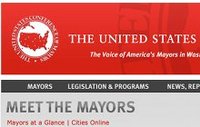 U.S. Conference of Mayors
,
U.S. Conference of Mayors
http://usmayors.org/default.asp
The U.S. Conference of Mayors is an organization of mayors throughout the United States. The website contains a number of press releases and reports on issues facing mayors and local government, which range from a few pages to hundreds of pages in length. The
Mayors at a Glance
feature is perhaps the most useful feature those studying Virginia government. Users can search for mayors by last name, city, state, and population. Each mayor featured has a picture, contact information, and short biography. Does your jurisdiction have a mayor? Try finding out more about mayors in your area.
Charlottesville Mayor David Brown
This document is a letter from the Mayor of Charlottesville explaining his support for Creigh Deeds' gubernatorial campaign. Although the letter is adressed to "John," the true audience was wider than an individual. Senator Deeds' campaign website…