| »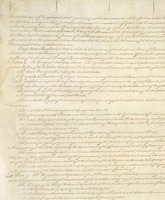 Virginia General Assembly
Virginia signed its first constitution in 1776 upon the signing of the Declaration of Independence. Since that time, there have been frequent amendments and six major revisions to the constitution: 1830, 1851, 1864, 1870, 1902, and 1971. Our current…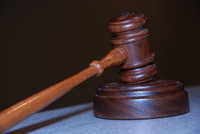 Cliff Gold
Individual liberties and public interest are at stake in two Virginia court cases engaged in this moot court: Rudolph v. Commonwealth (2009) and Cost v. Commonwealth (2008). Students will think about and analyze the decisions of the Virginia Court of…
Tags: Circuit Courts, Classroom activities, Cost v. Commonwealth, Court of Appeals, Crime, Debate, Drugs, Economy, Economy and Finance, First Amendment, Fourth Amendment, Human rights, judicial, Judicial Branch, Lesson plans, Moot court, Opinion, Prisons, Rudolph v. Commonwealth, SOL 1: Essential Skills, SOL 11: Civil Liberties and Rights, SOL 11a, SOL 11d, SOL 18: Participation in Civic Life, SOL 18f, SOL 1a, SOL 1c, SOL 1g, SOL 8: State and Local Government, SOL 8a, Virginia Supreme Court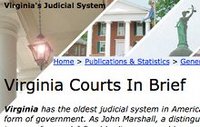 Virginia Courts in Brief
,
Virginia Court System
http://www.courts.state.va.us/courts/home.html
Virginia Courts in Brief offers a one page overview of Virginia's judicial structure. The website profiles levels of the court from magistrates to the state Supreme Court, providing explanations about what each level of the judicial system does. Find out the difference between a civil action and a criminal case, what the Clerks' Office does, and how many judges are in Virginia.