| »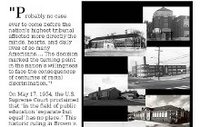 Brown v. Board of Education: Five Communities That Changed America
,
National Park Service
http://www.nps.gov/history/nr/twhp/wwwlps/lessons/121brown/index.htm
the National Park Service. has created a
Brown vs. Board of Education
lesson plan that places the landmark civil rights case within the context of five communities affected by school segregation, including Farmville, Virginia. Background reading on the website can help place school desegregation in a national context.
Four
photographs
of a segregated African American school in Farmville give a stark visual representation of inequality in education during the 1950s. The website also offers ways these resources can be used in the classroom, and
supplementary resources
useful for further research.
Chief Justice Warren, U.S. Supreme Court
The Loving v. Virginia case was a landmark in both Virginia history and the Civil Rights movement. At the time of the case, interracial marriage was illegal in Virginia (and many other states). In this document, Chief Justice Earl Warren…
Tags: Citizens in Action, Court decision, Document, History, judicial, Judicial Branch, Loving v. Virginia, SOL 1: Essential Skills, SOL 10: Federal Judiciary, SOL 10a, SOL 10d, SOL 10e, SOL 11: Civil Liberties and Rights, SOL 11a, SOL 11b, SOL 11e, SOL 1a, SOL 1f, U.S. Supreme Court, Virginia Supreme Court