| »
U.S. Supreme Court
This document provides the text of the landmark Supreme Court case,
Marbury v. Madison
(1803), the first Supreme Court case which declared an act of Congress illegal. That action created a legal precedent of Judicial Review.
Tags: Checks and balances, Document, Foundations, History, John Marshall, judicial, Judicial Branch, Judicial Review, Marbury v. Madison, SOL 1: Essential Skills, SOL 10: Federal Judiciary, SOL 10b, SOL 17: Personal Character Traits, SOL 17d, SOL 1a, SOL 4: The Constitution, SOL 4a, SOL 4c, SOL 7: National Government, SOL 7a, SOL 7b, SOL 7c, Supreme Court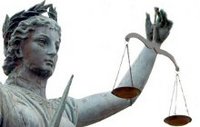 Quentin Kidd
Understanding state control on local governments in Virginia as a result of Dillon's Rule is fundamental to understanding the government that affects people the most. The vast majority of citizens are affected most directly by their local…
Tags: Animal control, Board of Supervisors, Budget, Bureaucracy, Case study, Charter, Checks and balances, Circuit Court, Cities, City Council, Code of Virginia, Commissions, Community, Counties, County board, Dillon's Rule, Education, Expressed Power, Fairfax County, Fauquier County, Gerald L. Baliles, Gerry Connolly, Home Rule, Implied Power, Inherent Power, Judicial Branch, Land-use, League of Women Voters, Local government, Local issues, Maryland, NOVA, Public safety, Redistricting, Roanoke, SOL 1: Essential Skills, SOL 16: Role of Government in U.S. Economy, SOL 16c, SOL 17: Personal Character Traits, SOL 17c, SOL 18: Participation in Civic Life, SOL 18c, SOL 1f, SOL 8: State and Local Government, SOL 8a, SOL 8b, SOL 8c, SOL 9: Public Policy, SOL 9c, SOL 9d, SOL 9f, State government, Taxes, Towns, Traffic, Virginia Association of Counties, Virginia Constitution, Virginia General Assembly, Virginia Municipal League, Virginia Supreme Court, Waste Management
Proudly powered by Omeka.