Web Resources
Browse reviews of valuable online resources for teaching and learning Virginia state and local government.
web resources by category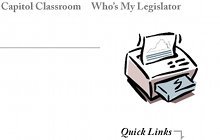 featured resource
Capitol Classroom's Games is a series of printable classroom games and classroom activities for students in grades K-12. Many games for younger students can be adapted for an older audience. A particularly relevant activity for older students is the Civics I.Q. test, which quizzes users on their participation in different levels of their civic involvement. This game shows that civic involvement is more than just voting in an election.