| »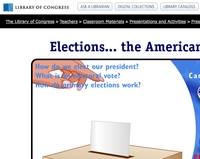 Elections the American Way
,
Library of Congress
http://lcweb2.loc.gov/learn/features/election/home.html
The Library of Congress has created an excellent resource that both explains how the electoral process works and gives a historical perspective. The website offers an overview of candidates, voters, the party system, the election process, and issues throughout U.S. history. Quotations, pictures, and memorabilia from key Virginian presidents are scattered throughout the website. This is an excellent resource for understanding how the electoral system developed, and it has instructions for
presidential craft projects
.
Judiciary NOW
This panel discussion at Georgetown Law School highlights the importance of an independent judicial branch. The U.S. constitution legislated a judicial branch that was free from influence by the executive branch and the legislative branch of…
Tags: Habeas corpus, History, judicial, Judicial Branch, Judicial independence, Moving image, Separation of powers, SOL 1: Essential Skills, SOL 10: Federal Judiciary, SOL 10a, SOL 10c, SOL 10d, SOL 1c, SOL 4: The Constitution, SOL 4c, SOL 7: National Government, SOL 7a, SOL 7b, U.S. Congress, U.S. President, Videos