| »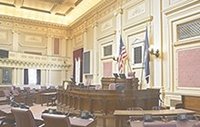 Virginia General Assembly Homepage
,
Virginia General Assembly
This website offers a diverse array of information about the Commonwealth's legislative branch: live audio and video streams of House and Senate chamber discussions, a guide to contacting your legislator, and information on visiting the Capitol. It is also a portal for
Capitol Classroom
, an educational resource about the Virginia General Assembly. The website provides core information on the General Assembly, and is a good jumping-off point for further study.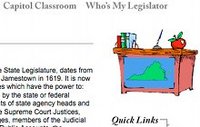 Capitol Classroom: Just for Teachers
,
Virginia General Assembly
Capitol Classroom: Just for Teachers
Capitol Classroom's "Just for Teachers' section offers lesson plans related to the Legislative branch, Capitol building, and civics education in general. An important lesson plan is the "Impact of Government on the Individual," which can help users think about how government affects their everyday lives. The website also includes a list of key terms and their definitions— everything from George Washington to the House of Delegates mace.