| »
9500 Liberty
In July 2007, Prince William County supervisors passed a unanimous resolution to cut down on illegal immigration. The resolution involved increasing local police enforcement of immigration laws and denying public services to illegal immigrants.
Tags: Citizens in Action, Immigration, Interest groups, Local government, Local issues, Moving image, Prince William County, SOL 1: Essential Skills, SOL 12: Role of U.S. in the World, SOL 12c, SOL 19: Meaning of Citizenship, SOL 19a, SOL 19d, SOL 1f, SOL 6: Elections, SOL 6h, SOL 8: State and Local Government, SOL 8b, SOL 8d, SOL 8e, SOL 9: Public Policy, SOL 9a, SOL 9b, SOL 9c, Videos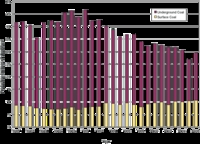 Virginia Department of Mines, Minerals and Energy
Coal is predominently found in Virginia's mountain regions, particularly in Southwestern Virginia. Coal mining has become a controversial issue, due to both environmental and economic concerns. While some point to the harmful effects of both coal…
Tags: Economy, Economy and Finance, Graphs, Local issues, Mining, SOL 1: Essential Skills, SOL 12: Role of U.S. in the World, SOL 12d, SOL 14: Economic Systems, SOL 14a, SOL 15: U.S. Market Economy, SOL 15c, SOL 15d, SOL 16: Role of Government in U.S. Economy, SOL 16a, SOL 16c, SOL 1b, SOL 1g, Still image
Proudly powered by Omeka.