| »
The ReDistricting Game
,
USC Annenburg Foundation
http://www.redistrictinggame.org/index.php
The ReDistricting Game teaches students about the challenges and potential of redistricting, as well as the problem of gerrymandering. The website features five different games: Fundamentals, Partisan Gerrymander, Bipartisan Gerrymander, Voting Rights Act, and Reform. Each game has both a basic and advanced level, as well as links to further information. The game can serve as the foundation for a classroom discussion on gerrymandering in Virginia, or a fun independent learning session for anyone who wants to know more about the difficulties of gerrymandering.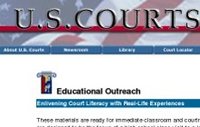 U.S. Courts Educational Outreach
,
Office of U.S. Courts
http://www.uscourts.gov/outreach/index.html